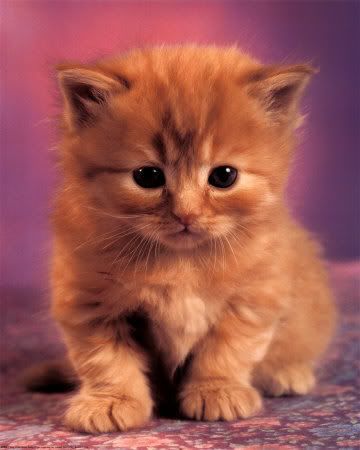 Well, so far I have been able to keep my girls' room cleaned. This week I have worked on maintaining their room so that it stays clean. I also organized their bedroom with baskets to make it easier to clean.

Here is what I have in those baskets:

Bags: diaper bags, back packs, purses.
Stuffed animals.
Doll clothes: brushes, hair accessories, doll shoes.

Baby dolls.
Miscellaneous plastic toys.
Bucket for legos.
Bag for plastic animals.

I used an assortment of different containers and laundry baskets, just what I had around the house. It has made cleaning a cinch.
And today I am glad I picked up their room...Why? you ask? Well, we have kittens...four 9-week-old kittens and my DD loves the kittens sooooo much that sometimes she sneaks them up to her room!!!
Now, today I didn't find a kitten, per se...I found evidence that the kitten had been there. Yep! You guessed it! The sweet precious little kitten used the girls' bedroom floor for a litter box...and I got to clean it up! YUCK! Thankfully I am past the stage of getting sick every time I see or smell something that nasty.
So if you have been thinking about trying to maintain your cleaned rooms, don't think twice...JUST DO IT!!! For you may find some yucky surprises if you don't!!! (O;
I am trying to laugh about the story...but it hasn't hit my funny bone yet!
Blessings!
Heather