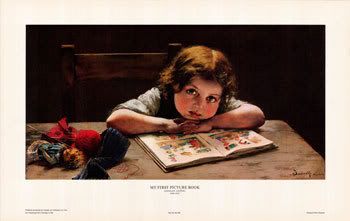 Today was a bit tougher, as expected. However, we did complete our lessons for today.

We began our day with our 5-year-old daughter running out the door at 6:00 a.m. My husband and I were lying in bed trying to wake up as we were listening to her running back and forth in the house (probably getting dressed, putting her shoes on and a sweater). When I heard the front door open and shut, I sprang out of bed faster than usual frantically looking for something to wear and shoes for my feet.

When I bolted outside, I couldn't find my daughter anywhere, but I wasn't thinking. Just yesterday she discovered that she likes kittens, we have four 4 1/2 week old kittens in our garage. I looked everywhere but the garage. My husband came out and found her right away...in the garage. ;OP She was only out there for 5 minutes, but she was cold because she wasn't properly dressed. So she and dad cuddled on the couch with a blanket until she was warm again.

I sat in the rocking chair for a while, still dazed at the haphazard way that I was awakened. Finally, once I was fully recovered from the incident, I fixed breakfast for my husband and children. After I ate a bite, I had my oldest daughter unload the dishwasher so I could load it up again. These days, I have been running the dishwasher twice a day.

Once morning clean-up was done, we began a trying day of school.

4th grader's completed work:

History/Reading: Finished PYRAMIDS book.
Handwriting:

Keach's

catechism and supporting scripture.
Math: Saxon Math 54, Lesson 128: new concept learned was reducing fractions.
Spelling Test for 15 words
History: 3-D Encarta Tour of the

Abu

Simbel

, 1250 B.C.--Ramses

II's

temple on the Nile.
2

nd

grader's completed work:
Math: One addition worksheet and one worksheet on telling time.
Handwriting: B's & P's; H's & lowercase letters.
Reading: Lesson 90 in Teaching Your Child to Read in 100 Easy Lessons.

History: 3-D Encarta Tour of the

Abu

Simbel

, 1250 B.C.--Ramses

II's

temple on the Nile.
I printed up some worksheets on letters and simple addition for my daughter (kindergarten), she has been working on that today. She also unloaded the dishwasher for me again this afternoon.
Our cleaning isn't quite done yet as we have a huge tent in our living room that our children built out of chairs, couch cushions and comforters! Unfortunately it is raining outside and chilly...not the kind of weather to play in.
So there you have it, so far...another day in our homeschooling adventures!
Happy Wednesday! Everything is downhill from here!
Blessings!
Heather