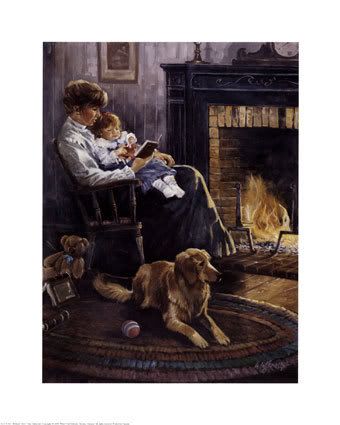 In my last post, I gave no introduction as to why I was writing about my homeschooling day, so here it is.

Candy over at Keeping the Home has asked her readers to post what they are doing in school this week. So here I am again today, posting about our homeschool day.

Today was pretty much a repeat of yesterday. I have been sick so we have gone to a shortened version of homeschooling until I am completely well again.

Today's Homeschooling Day:

4th grader

Saxon Math 54, Lesson 127: In this lesson he learned about multiplying fractions, and the rest was review.
Handwriting:

Keach's

catechism and supporting Scripture: He has been working through

Keach's

catechism, writing the questions and answers, and following up with supporting scriptures for each question & answer. He writes this in cursive and usually writes a whole page worth without skipping lines.
Spelling: Just reviewing words for the upcoming test.
Reading/History: He is still reading about pyramids, a book called

PYRAMID

by David Macaulay.
2

nd

grader
Handwriting: He uses Donna Young's cursive handwriting exercises. Today he worked on his cursive M & N.
Reading: He is reading through Teaching Your Child to Read in 100 Easy Lessons. Today he did 2 lessons, Lessons 87 & 88.
Math: He completed 3 third grade worksheets, 2 on fractions and one on the multiplication table.
When we were finished with schooling, we cleaned the first floor. My oldest daughter unloaded the dishwasher. We cleaned all the floors which included the kitchen, living room, kid's living room and the bathroom. We sorted the laundry into baskets, and cleaned the downstairs vanity, sinks & toilet. We then vacuumed the carpeted floors--just the middles, and swept the bathroom & kitchen floors. This part of schooling is called life lessons. We learn to be clean and organized.
The children did so well today that they were rewarded with some free time, and my oldest daughter got to go somewhere by herself with dad.
Creamy potato soup is cooking on the stove and bread is baking in the oven. We will be having pumpkin
streusel
muffins for dessert. YUM!!!
NOTE:
This is not a typical day, most days are chaotic and overwhelming. I also had help from the same friend (from church) that came over yesterday. She & her husband ate dinner with us last evening and will be eating with us again tonight. She has really been a tremendous help to me this week.
I am so glad she was here to help this morning, as I was once again plagued with a sinus headache and I had to crash on the couch for a couple hours this morning. If she would have not been here, we would have been behind on EVERYTHING!!!
God has been so good to me in these trying days of sickness. I am very thankful to my Heavenly Father and I give Him all the credit.
JUST REMEMBER: THIS IS NOT A TYPICAL DAY!!!
(O=
Have a wonderful rest of the day!
Blessings!
Heather